The Graham Group Leadership
Leading the way to Organizational Success
Working with small to large organizations
Johnny Graham, President
Mr. Johnny Graham serves as Head of School at Williamsburg Christian Academy in Virginia. A three-time Head of School, Mr. Graham most recently served as Founding Head of School of Springdale Preparatory, an independent boarding and day high school in Maryland. In November 2018, Carroll Magazine named Mr. Graham Carroll County Person of the Year for his work in building Springdale Prep and adding more than three million dollars in new jobs to the region. Mr. Graham additional recognitions include Teacher of the Year (Christ School, 2002), Coach of the Year (Howard School, 2009), and Alumni Career Achievement Award (McCallie School, 2021). Mr. Graham earned a Master of Arts degree from George Washington University and is pursuing a PhD in Urban Educational Leadership from Virginia Commonwealth University.
Johnny Graham is a dynamic intellectual who works diligently to deliver success for his clients. Through his extensive consulting career, he has delivered a variety of services through his strengths in leadership and governance, education, marketing capabilities, and home school support.
Since 1998, Graham has served nonprofits, boarding schools, day schools, and churches so that they might better serve their constituents. A graduate of the prestigious McCallie School, Graham began his professional career as an Advanced Placement U.S. History teacher, dorm director, and basketball coach. Wearing many hats in the small boarding school arena, he was called upon to lead as Dean of Students, Associate Head of School, Interim Head of School and Founding Head of School.
Most recently, Graham created a new prep school in Carroll County, Maryland, employing a unique educational vision that prioritized experiential learning and mindfulness for all students, and married a distinctive culture with rigorous academics to meet the demands of today's complex world. He is methodical, contemplative and articulate, and applied his extensive experience in the educational arena to establish a school that fundamentally prepares students to meet the challenges of today's workforce. His built the school from ground zero, assuming operations at a former retreat center, recruiting faculty leaders, developing curriculum and marketing for several years prior to opening the school doors. In just two years, the school population grew to become home to 60 students, 23 of whom were boarders.
Mr. Graham is married to Kimberly Harper Graham and is the father of Christopher, Julian, Jeffrey, and Ashton.
2018 Carroll County Person of the Year, Carroll Magazine
With a readership of over 125,000, Carroll Magazine named Johnny  Graham as its 2018 person of the year for his creation of Springdale Preparatory School, his impact on the economic landscape of Carroll County, Maryland, and for providing a powerful alternative educational option for Carroll County Students and their families.
2009 Hal Fairbanks Award for Coaching Excellence, Howard School
Coach excellence and mastery in teaching game of basketball.
2002 Teacher of the Year, Christ School
Outstanding Academic Instruction.
2002 Senior Yearbook Dedication, Christ School
Awarded by the senior class for outstanding leadership and service as Head of South Carolina House and History Department Chair.
Dr. Devin DeLaughter,
Team
Member
Since 2017. Dr. Devin DeLaughter currently serves as the Director of Athletics at Father Ryan High School in Nashville, Tennessee. Following graduation from Tullahoma High School (TN), Dr. DeLaughter joined the football program at The University of the South (Sewanee) in addition to earning a Bachelor of Science degree in Mathematics. After a brief stint as a collegiate football coach, Dr. DeLaughter began his career in education serving at the McCallie School for Boys in Chattanooga, TN as a math teacher at both the middle and high school levels as well as responsibilities as a dorm parent. While at McCallie, Dr. DeLaughter coached Football, Middle School Basketball, as well as Track & Field.
In his first role as a school administrator, Dr. DeLaughter served as an Assistant Principal & Director of Athletics at Grace Community School, a PK-12 grade Christian school in Tyler TX. Dr. DeLaughter holds a Master's Degree in Educational Leadership from Covenant College as well as a Doctorate of Education (Educational Leadership) from Dallas Baptist University.
As a researcher and practitioner, Dr DeLaughter studies athletic and educational leadership practices through the Theory of Transformational Leadership. As a Certified Athletic Administrator (CAA), through the  National Interscholastic Athletic Administrators Association, Dr. DeLaughter has developed professional development and leadership development seminars for coaches, athletic administrators and student-athletes to help maximize the athletic experience within the secondary and post-secondary years through the implementation of the four pillars Transformational Leadership Theory.
Dr. DeLaughter is married to the former Mrs. Tina Hill, a registered nurse and fellow graduate of the University of the South ('03). Dr. and Mrs. DeLaughter have two daughters, Briana (14) and Erica (13).
Dr. Leesha Ellis-Cox,
Team Member
Dr. Leesha Ellis-Cox heads The Graham Group's Mental Health Consulting division. A double board-certified psychiatric physician, Dr. Leesha Ellis-Cox combines 15+ years of clinical care with robust medical training to provide thoughtful consultation to schools, agencies, and organizations who wish to create a culture that intentionally and strategically nurtures the mental health of those they serve.
Her medical school training at the University of North Carolina at Chapel Hill, followed by general psychiatry residency and dual fellowships in child and adolescent psychiatry and public health at Emory University School of Medicine, have positioned her as the premier mental health expert. She offers a unique array of services to meet the diverse needs of those with whom she works with integrity, professionalism, and creative outside-of-the box thinking.
Whether a group needs dynamic and engaging presentations and training about topics such as depression, anxiety, and self-care or help designing and implementing mental health-focused services and programs, she will deliver. She has been featured in traditional media outlets (local and national radio, local television stations); digital media including Healthline, Thriveworks, and Bustle; and has provided stellar services to school districts, churches, and several other civic organizations.
Fred Liggin,
Team Member
Fred is a certified trauma professional, S.T.A.R. Practitioner (Strategies for Awareness & Resilience), and Somatic Abolitionist. He has over 400 hours of trauma training and 22 years of experience navigating organizational cultures as a business executive, community organizer, social entrepreneur, and Christian pastor (which is still his primary vocation). He is the founder of 3e Restoration Inc., a national non-profit and community development agency that equips, encourages, and empowers faith communities and other agencies to do the same for neighbors transitioning through social displacement. Fred is a founding member of the board of directors for Virginia Racial Healing Institute, an Advisory Board member for Sentara Hospital of Williamsburg and Bacon Street Youth and Family Services, a member of the leadership team for Williamsburg's local chapter of Coming to the Table, and a member of Greater Williamsburg Trauma-Informed Community Network's Racial Trauma Committee and Training Committee.
Fred received his B.S. in Ministry/Bible at Amridge University and his Master's of Religious Education in Missional Leadership from Rochester University. Currently he is a candidate for a Doctorate of Ministry in Contextual Theology in at Northern Seminary in Chicago. Fred has also served as an adjunct professor where taught courses in philosophy, ethics, leadership, pastoral care, intro to Christianity, and ethnography. He has also served as a guest lecturer on the subjects of racialized cultural systems, poverty, and missiology at various universities, such as William & Mary and Oklahoma Christian University. Fred has authored on book (Racialized Cultural Systems, Social Displacement and Christian Hospitality) and several curriculum offerings, including The FloorPlan: Living Toward Restoration & Resilience.
Our Approach
Business success is based on strong relationships. We look forward to collaborating with you to bring your organization's strategic vision to fruition. We will dedicate our efforts to challenging you to reach new levels of success, guiding your business through difficulties, and celebrating your triumphs.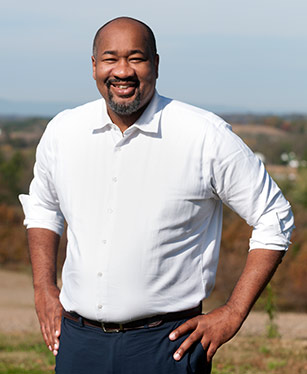 We would be happy to speak with you.  Drop us a note today.